I'm happy to re-print an article written by Daniel Sroka, the amazing artist from ModernKetubah.com.
I work with so many Destination Brides, and I know that so many brides must encounter this challenge when they are getting ready to travel for their weddings.
If you are in the ketubah market, I highly recommend Daniel's work, as an original, inspirational artist and designer.  Enjoy!
***************************************************
by Daniel Sroka of www.modernketubah.com
When my wife and I got married, we were still living in San Francisco, but our wedding was closer to our family in New Jersey. Let me tell you, planning a long distance wedding has its challenges! One of which is how to safely bring your ketubah on the plane with you. I get asked this a lot, so I thought I'd share some advice. First, have me ship your ketubah to you, not to the wedding site. It is really important that you see your ketubah in person, well before the ceremony. This will let you look it over carefully, and make sure that it is exactly what you ordered. And if it got accidentally damaged in shipment, this will give me a chance to replace it for you.
Traveling with your ketubah
I ship your ketubah rolled between sheets of acid-free tissue paper, and placed in an extra-strong shipping tube. Experience has shown that this is the safest way to ship unframed fine art. (Shipping it flat is both more expensive, and results in more damage.) So the best way to travel with a ketubah is to reuse this shipping tube. Place your ketubah between the tissue paper I provided, and carefully reroll in and place it in the tube. You now have a safe and portable package to carry with you. Be sure to bring it with you in carry-on, or stash it safely deep in the middle of your suitcase, surrounded on all sides by clothes.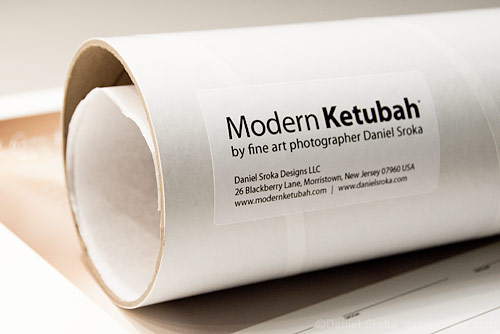 When you arrive
When you get to the location of your wedding, take your ketubah out of the tube, and let it unroll. The paper will keep its curl for a while, but don't worry. The paper of your ketubah is 100% cotton-rag, so it will easily "forget" the curl over time. When you remove it, you could gently use the tube to roll it in the opposite direction to remove the curl more quickly. If you feel uncomfortable doing this, just lay it flat like I suggested for a day or so to get rid of the worst of the curl. For my own wedding, I used an inexpensive poster frame to flatten the ketubah, and then protect it throughout the wedding and reception. When you are ready to have it framed, your framer can make sure that any remaining curl is removed.